1 August 2022
Happy August Long Weekend to you all - things are gearing up once again for another teaching year. I'm happy to report that all systems are back to in-person business as usual at the BU School of Music (masks suggested, but not required) - come Labour Day, my schedule at present is looking very much like it did three years ago:
Wed. 5pm-6pm: Book 1-2 Suzuki Group - Room 1-57 (R.D. Bell Choral Hall)

Wed. 6pm-7pm: Book 3-5 Suzuki Group - Room 1-57 (R.D. Bell Choral Hall)
Thu. 5:15-6:15: Conservatory Guitar Ensemble - Room 1-57 (R.D. Bell Choral Hall)
Private Lessons: at agreed-upon times between Students and Instructor - Studio 0-07

My virtual door remains very much open to distance teaching via Zoom - please contact me for details.
One new development to report in the website department: I've written some articles in the past, some of which have not found published homes - until now. Click here for some of my recent (and not-so-recent) inksheddings on guitar teaching, the first offering being an article I wrote a while ago on using a metronome successfully.
Cheers for now, mes amis - be kind to each other.
Pablo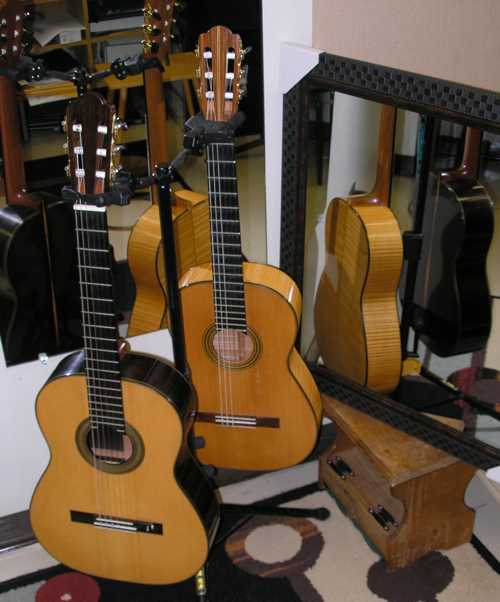 13 Jan 2022

Best of the New Year, friends. I hope the Yuletide season of 2021 was everything that you wished it to be.
Well, I seem to have called it on the last entry: Two weeks ago, The Conservatory's Suzuki Talent Education Program decided to move group instruction back online until the University's reading week (20-25 February), by which time it is hoped that the Omicron Variant of COVID-19 will have run its course (and will not have been replaced by yet another mutation) - it was left to individual instructors to decide whether to follow suit with one-on-one lessons; just about all of us have done so.
I'm choosing to look at the positives of this development: 1) As long as my home internet keeps body and soul together, I can do my work without leaving my house (not a bad thing when it's -35C outside!); 2) I can keep in regular contact with my awesome students, knowing that we're all doing our best to keep one another healthy; 3) With every week, I'm getting progressively more comfortable and confident with on-line teaching, and excited about the possibilities that it presents.
Looking for an experienced guitar teacher, but geography working against you? Drop me a line at madryga@brandonu.ca - we can make it happen!
Take care of yourselves and each other, gang, and we'll chat again soon - hopefully on the receding end of Omicron...
Paul

23 December 2021

And so we've made it to the end of another term and almost another calendar year - Happy Tibb's Eve to all my Newfoundland friends (please make sure that one of your party stays on the wagon, b'ys - Impaired Driving is no laughing matter).
I reckon that it's been a decent term, all things considered. The Suzuki Guitar numbers are up (almost double) from last year, and it was truly fantastic being able to work with the kidlets in person again. We'll see how things pan out for January - I fear the big guy in the red suit has brought us a nasty lump of coal in the form of the Omicron Variant. Gawd, but I've had enough of this damn pandemic... Depending on what Provincial health guidelines (and Brandon University mandates) have to say, we may well be back on-line for a bit in the New Year - as I have mentioned, it's not my preferred means of delivering a guitar program, but the good news is that it's now familiar ground, and we now know that it's possible to do meaningful work in this manner. We've made it work before, and we'll make it work again, even if for no other reason than to keep the kids, parents, and teachers in regular contact with one another. Ultimately, it's all about the community anyway, pandemic or no.
Mask up, vaccinate if you can, and lavez-vous les mains, mes amis - have a safe and happy holiday season. May your hearts grow large from the people you have around you, and may the rest of you grow large from foods that you love. Take care of each other, and we'll chat again on the other side of New Year's Eve.

Feliz Navidad;
Pablo

22 November 2021
Happy November, friends. Not a whole lot to report of late - hence the delay in updates. Well... that, and the as-yet unexplained disappearance of my website... At any rate, we're back online here in MadrygaGuitarLand.
I'm happy to report that we made it back to in-person instruction this fall, with restrictions: No unvaccinated people on campus (save for those with a valid and documented exemption); mask-wearing is still mandatory; social-distancing is still the order of the day. Even with all that, it's wonderful to sit in the same room with my students again! The remote-learning technology is still a part of our pedegogical lives, however - sick-days and storm days have largely been replaced with Zoom days, and I'm still very much willing to take on students for whom weekly trips to Brandon are not feasible (like, for example, my two students in Dusseldorf, Germany - a bit of an unrealistic commute, that...). Drop me a line if you're interested, and we'll set something up.

That's all for now, gang - Be good to each other; I'll post again over the Christmas/Yuletide/Festivus break.
Paolo

1 September 2020
Sorry, good people - I know it's been an extended hiatus from the website. Much has transpired since my last visit with you all - the passing of both my parents (Dad in June 2017, Mom just before Christmas 2019); the settling of their estates; the manic excitement (if we can call it that) of the current COVID-19 pandemic; the impending reconstruction of the basement of my house (MAJOR surgery, brought on by the rainstorm of 28 June of this year - looks like another mortgage to pay off...); the downright frightening turn of political events south of the border (And they call it "Democracy")... the website, I must confess, has not been on the front burner of my mind.
Anyhow: madrygaguitar.ca is back, just in time for a new school year, one that promises to be unlike any that have come before.
If there's one positive thing that will come of the current pandemic, I expect it will be the stimulation of advances in both real-time communication technology and the ability of the average music teacher to use it. I didn't think at the beginning of the social lockdown in March that there would be any really viable on-line substitute for the in-person guitar lesson - Six months later, I find myself getting more comfortable with the technology, and more receptive to teaching in the digital environment. If the technology can get close to the point where simultaneous back-and-forth communication is possible (i.e., to the point where I could play along with a student in real time), it will be the next of Howard Goodall's Big Bangs* in the history of music - Music Notation, Equal Temprament, Opera, The Piano, Recorded Music, Instantaneous On-line Music Instruction. I still look forward to the day when I'll see my students in-person again, but the fact that Suzuki teacher-trainers are starting to run teacher workshop sessions on-line is certainly a step in the right direction.
From this moment, let it be known that I'm accepting students into my roster, regardless of where you live. Can't find a teacher where you are? Have you heard my students play (or for that matter, have you heard me play, even) and like what you hear? Drop me a line. Distance is less of a problem now than what we thought - time zones pose much bigger problems, but getting out of bed at an earlier hour wouldn't do either of us any harm. Let us self-caffeinate as needed and face this future of ours together!
That's it for now, friends - stay safe, mask up, wash your paws, and be kind to your fellow travellers.
(*Look it up on YouTube if you're not familiar with this series - totally worth your time!)
20 August 2018
I had this student for many years - his name is Ben Lamont.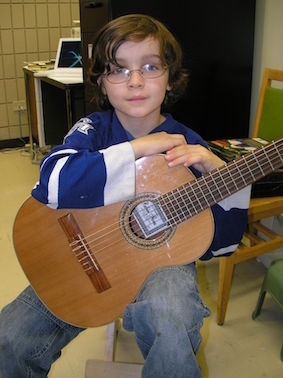 With the help of his parents, Ben did all the right things (at least, he did what his teacher said were the right things) at the right times, and grew into a pretty fine guitarist.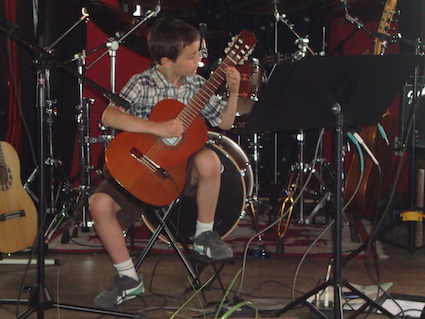 His hard work started paying off, and he started to win cool shiny things, like the Ted Good Music Guitar Trophy at the Brandon Festival of the Arts: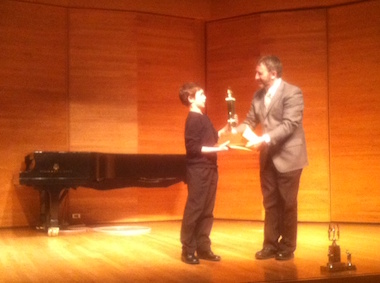 Last week, Ben got to take a really cool trip - to Mount Allison University, for the Canadian National Music Festival.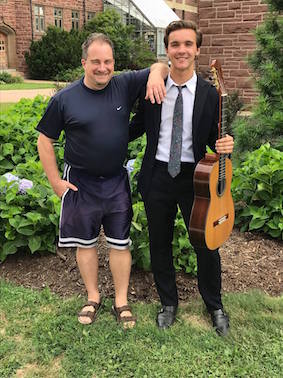 Ben placed third at Nationals. His family and his teacher are all very happy and super-proud. It's been a great ride, buddy!

13 March 2016- My, but where's the winter gone...?

Things are well into March Madness here: term-end recitals and concerts are just around the corner; year-end juries are in four weeks; Brandon's being treated to some unseasonably-warm (like +16C) sunshine. Barbeque's got some pastured beef sizzling on it, and Paul's taking a minute from what's been a hectic few days for a long-overdue update of his interwebs...
As you may have guessed from the long layoff, it's been a busy year. My Conservatory schedule is busting at the seams - 21 in my Suzuki progam alone! It's past time for me to add another hour of group instruction - it's going to mean no small amount of disruption in my schedule, but these are the realities of a growing and successful program ( a welcome problem, it is).
Just finished three days of adjudicating guitars at the Winnipeg Music Festival. Big thanks to the amazing, superpower-enabled administrator that is Joanne Mercier for the gig (and to Brandon Festival of the Arts chair Bill Gordon for dropping my name to her), to all the Winnipeg guitar teachers whose students enrolled (David Letkemann, Kurt Tittlemeier, Ian Hodges, and Ryszard Tyborowski. Apologies if I'm forgetting anyone...), and to the classroom guitar teachers in the Winnipeg school divisions whose ensembles I heard on Thursday morning. You all do amazing work! A big thank-you to my fellow adjudicators, as well: Rennie Regehr (Strings), Linda Kundert-Stoll (Piano), Barry Valleau (Winds), and Matthew Abraham (Trophy Day adjudicator) - it was a real pleasure working with you through that long last day of trophy concerts!
Soon be time for making summer plans - ensemble repertoire to arrange and choose; solo repertoire to learn and polish (it's been suggested to me that another CD project might be in order - we'll see...), weddings to play (click on the "Weddings" link at the bottom of the page if you're interested in hiring a classical guitarist), a bike to ride, locally-sourced animal protein to grill.... the summer life is good in western Manitoba!

Ciao for now, amici... be kind to each other.

1 July 2015
Just a few quick lines - Summer classes for new Suzuki home coaches are starting up, and man, it's gonna be a busy year! Looking to get into lessons? You'd better phone soon!

7 July 2014
Summer mode - relaxing, bike-riding, working out, bailing water out of my basement...
OK, so I'm not as thrilled about the last one. High-River Season came late to Brandon this year, thanks to a late spring melt and record amounts of rainfall through the month of June, both here and upstream (can someone please ask the agricultural Powers That Be to stop filling in marshes in the Assiniboine basin...?). I've had standing water in the basement for the last three weeks - could be a heck of a lot worse, though: glad I don't own property near the river.
Not too much to report, professionally - starting to piece together the teaching sechedule, repertoire, etc., for September; making plans for a trip back to Calgary in August to teach at the Piano & Guitar Institute @ Mount Royal University. Good times!
Time to start up with home-coach classes for new Suzuki parents - enjoy the season, gang; Heaven knows it's never long enough!

5 May 2014
Item #1: A NEW JOB! "The Applied Department unanimously recommends that [The Dean of Music] appoint Paul Madryga to teach applied guitar (minors, concentrations, and majors)". Love getting e-mails like this!

Twenty-three years of mentorship and professional guidance from David Letkemann (to whom I owe a tremendous debt of thanks for his support and advice over the last two decades), as well as the wisdom and professional expertise of Paul Bernard, Julian Byzantine, Frank Longay, Bill Kossler, David Madsen, Andrea Cannon, and Joe Pecoraro, have led to my first one-on-one university teaching job (a sessional/adjunct job, to be sure, but a most-welcome one). The thought of filling my mentor's shoes both excites me and scares me a little - there's so much knowledge and experience that David L. brought to that job that I certainly don't have yet, but I'm very happy to have the chance to mentor my own eventual replacement, even if I do it half as well as David himself did. Thanks, Dave - and thanks to the Brandon University School of Music for yet again believing in me.
Item #2: One of my favourite parts of the gig is watching the kids grow into smart, disciplined, and thoroughly-decent young adults - meet Zach Grossart:
Best of luck in Engineering next year, Zach - ya done good!
Item #3 - Back to adjudicate at the Calgary Suzuki String Association's annual festival next weekend - very nice work if you can get it!
Caio for now - play nice in the sandbox, gang;
Pablo

25 February 2014

It's worth saying that Estonia is a lovely country with lovely people. They also have one helluva a choral tradition there.

I had the great fortune to find myself back in the Brandon University Chorale for six months, part of the deal being a trip to Estonia and Latvia to take part in a series of concerts and workshops organized by the Chorale's director Dr. Andrée Dagenais. To make a long story short, she was thin on tenors and needed an additional voice to fill out the section a bit more and balance it with the choir - having just sold a guitar, I had some extra coin on hand, so I said, "Sure, why not?" This year's edition of the Chorale was a group of wonderful people who obviously enjoyed singing together, and who generously welcomed me into the ensemble. Awesome people to tour with, in an awesome place to visit.

A bit of background: the Baltic countries of Estonia, Lativa, and Lithuania won their independence from the crumbling Soviet Union in 1990, and (in the case of Estonia, at least - less so the other former Soviet republics) did so with very little bloodshed. One of the biggest motivating forces behind Estonia's push for independence was their established and revered musical tradition - for more on this, look for a movie called "The Singing Revolution". This is a country born in song - their love of singing sustained them under the Soviets (and then under the Nazis, and then under the Soviets again) and nourished the spirits of the educated folks lucky enough to escape Stalin's purges and live in exile until the winds of change started blowing in the late 1980's. It should thus come as no surprise to learn that their school system teaches music (particularly choral singing) remarkably-well (They also take the teaching of foreign languages - especially English and Russian - very seriously, but that's not really surprising for Europeans, for whom multilingual communication is far more of a daily reality than it will ever be for most North Americans).

Had a great time - nice to be back at work, though. Time to see if my fingers still know how to play guitar...
pfm

15 January 2014


Had the privilege of playing on another BU Music Faculty recital - it was nice resurrecting a movement of the Tedesco D Major Concerto (my first performance of the piece since finishing my Master's 11+ years ago). It's a fun piece that was made all the more enjoyable by playing it in one of my favourite places (The Watson) for some of my favourite people (BU music folks are awesome!) with an absolutely wonderful accompanist (Who else? Sunhwa Her!). The longest BU concert that I can remember, but a fantastic evening!
Later;
pfm

24 November 2013
Just back from another trip to Calgary (third this year), via a direct flight between Brandon (yes, Brandon!) and Cowtown (Have I mentioned how pleased I've been with WestJet lately...?). Dropped off the old guitar (seen below with her kid sister - Alex is the blonde, the younger Natasha is the brunette) to her new owners, Kim and Isobel Aull, and did a day of adjudicating at the Chinook School of Music (under the auspices of a dear Brandon friend and fellow alum Carrie Kalmakoff). Had a hand in a surpirse 50th birthday party for brother Pete, and caught a ride to the airport with his family this morning (me, back home; them, to some warm, sunny, golf-friendly locale). All in all, a decent weekend.


5 May 2013 - Happy Cinco de Mayo, mis amigos;
Had an awesome time at the Calgary Suzuki Strings Association Festival. Big props to Tammy Poon and associates for making it happen, and for inviting me to adjudicate. Big thanks also go to my fabulous Calgary and Edmonton colleagues Kim Aull, Mandy Loban-Jordan, and Dayle Besler for dropping into the teacher symposium (much obliged for your enthusiasm for my arrangements, ladies - pdf's will be available soon). Kudos to you three for doing what appears to be top-drawer work in your programs - after the 15th adjudication, I got tired of writing "excellent posture and positioning"...! It's a beautiful thing we do, this guitar-teaching thing...

In the Department of Random-Stories-From-Travelling:

1) Did you know that West Jet flight attendants sometimes present the In-Flight Safety Demonstration in the form of a Dr. Suess poem...? Neither did I. quite entertaining!

2) There's a rather high-end beauty-product boutique in the concourse of Calgary International Airport that employs a very skilled and assertive sales agent (who is cleverly disguised as a breathtakingly-beautiful, 35-year-old Isreali woman), who will do her upmost to convince the single travelling guitar teacher that he really, _realllllyyyy_ needs a three-year supply of this amazing eye-care product that will relieve his tired peepers after a long day of teaching. The tube of said amazing product, the size of my thumb and retailing for $399 (Uh-huh. Yep.), will be offered to said guitar teacher for the low, low price of $199 - which then, after protestations regarding the impending repairs needed upon said guitar teacher's house, became $99. Oh, you're good, madam... well-played, indeed (No, I didn't buy any - thanks for asking).

Anyhow, back to the music. Speaking of home programs (specifically, mine), the Brandon STEP spring concert is safely done and out of the way, celebrated in fine fashion with a lovely spring day and an arrangement of three Canadian folksongs (by cello colleague Michelle Bouchard and myself) for a mess of violins, cellos, and guitars (with piano accompaniment - Thanks, Sunhwa Her, for your fantastic work). Fun stuff! Video will hopefully follow shortly...

It's exciting to watch my students grow - case in point: remember this punk from six years ago...?

Well, it's the end of one road for Nabil, who's starting a whole new one next year. It's been a great ride, buddy - glad to have been a part of it, and best of luck with the whole engineering thing.

I case you haven't seen them, some videos from the 4 April concert have made it into Web Land - check them out here.

Back to work tomorrow... ciao for now.
14 April 2013
Happy Spring, everyone (he wrote, the words ashes in his metaphorical mouth - Brandon is holding its collective breath for still more snow tonight. Just what we need - I've got a bloody glacier in my backyard, fer the love of Pete! Old Man Winter: go home, already - you're drunk).
Well, enough about the lousy weather - 'tis supposed to be happy time of year, the season for regeneration, new beginnings and all that great stuff. I took a glance at my webpage last week and noticed that various items were well past their best-before date. There haven't been a ton of solo gigs for me to brag about lately, so I thought I'd turn this particular page into a blog, upon which I can brag about other swell goings-on in my professional life. So, here it is - thanks for dropping by!
Item #1 on the Inaugural Madryga Guitar Blog concerns the 2012-13 Brandon University Guitar Ensemble. I've had some super people and skilled players pass through the ensemble in the nine years since David Letkemann handed it off to me, but there was something about the interpersonal chemistry of this year's final lineup - Nathan Layh, Jeff Therrien, Andrew Nichols, and Nic Lawrenz (See photo to the right, courtesy of Miranda Galvin - that's Yours Truly sippin' the sauce in the middle.) - that made this year's ensemble experience unique and exciting, and one of which I'm very proud to have facilitated. Kudos and thanks, you guys - fantastic work at the Winnipeg Classical Guitar Society gig last weekend! There are videos in the post-production phase at present, and I'll get them posted as soon as they're available.
I'm equally as proud of my Suzuki kids and Conservatory ensemble, who joined the University guys onstage for their final Brandon concert last Thursday (4 April). Every so often I get all three groups to work together on something - it reminds my Uni guys that this is how I replace them once they've convocated and gone on with their lives (I think it puts them in the right frame of mind to become good teachers), it inspires the younger groups to reach for the next level of ensemble achievement, and it creates & develops an audience (gotta get bums in seats, don't ya know). The kids always impress me with how they pull things together onstage and perform with focus and professionalism. I've got the best job in the world! Again, vids and pictures will follow when available.

In other news: the BU/EGCM classical guitar community got a huge boost at the beginning of March when my New Jersey colleague Seth Himmelhoch paid a visit to adjudicate Brandon Festival guitar classes, conduct a Uni masterclass, and do a one-day workshop with my Suzuki kids and Conservatory ensemble. I've since noticed a huge difference in my group class as per matters of posture, focus, and ettiquette. Love it when that happens!
Speaking of adjudicating: I'm off to Calgary in early May for their Suzuki Strings Festival. I've not been out there for over a decade, and I'm really excited to meet up with my Calgary colleagues, to hear their students, and to hang out with members of my own immediate family for a bit. Like I said, it's a sweet job that I have! Time to get going on a teacher symposium presentation (relatively-uncharted territory for me - wish me luck)...

That's about it for now, mes amis - pick & grin, and be kind to one another;


Paul


Dammit, I told them not to overdo it in rehearsal, but would they listen to their director...? "One more time through on 'Malamatina'", they said...!
Home -
News & Gigs -
Bio -
Resume -
Teaching -
Wedding Music -
Compositions -
Discography, Playlist, Tech. Requirements -
Videos -
Articles -
Links -
Boris -
Contact/Press Kit -
In Memorium -